The first thing you should notice about this blog post is, that it has got a highly precise name "Tableau Wafer Extension", but the word "Framework" attached to it. The reason is, this Tableau Extension solves a highly specific problem, but it can be leveraged to solve way more challenges!!! Therefore don't look at it as a single highly specific Extension, but focus on the different modules and what they're doing and think about your own scenarios where:
Using selected marks to trigger something outside of Tableau,

Generating images on-demand,

Visualizing images in a certain context,

Sending JSON data from your Extension to a WebService,

Calling a Python script from your Extension or

Writing enriched data back data into a database
 would be of value!
How can I get it?
Architecture
High Level Architecture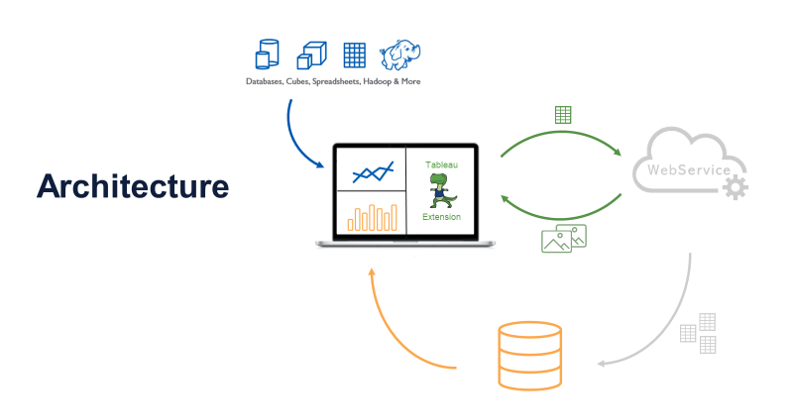 Demo
Demo
First 7minutes: Use Case Description + Wafer Extension Demo. The rest of the time is focusing on a Technical Deep Dive into it in order to let your tech-guys adjust it to your needs.
System Requirements:
Tableau Desktop (2020.2 and higher)

Port 

5000

needs to be open/free (Flask Webserver)

Postgres database v11 (v12 not yet supported as of post date)

Python 3.8 mit Anaconda 

Admin rights
Installation
Step-by-Step Installation
Setting up the database with Ludwig Ehlert's Postgres 11 install-setup walkthrough


Download

this Github repostory 

with the Tableau Extension

the TREX manifest file which points to the

Tableau

Extension
The v2020.2 Tableau Workbook

Python file with Flask Webserver

Extract somewhere on your machine where you'd like to run the WebServer from in the next step

(Ready. Set. Go!)

Install Python 3.8 with Anaconda (leverage this ENV file for all the library dependencies: wafer_ext_env)
Ready. Set. Go!
Ready. Set. Go!
You can finally start your Flask WebServer which is part of the "json_io.py" script. For Windows open up Anaconda command line console as Administrator and type in the following commands (for Linux users: you know what you're doing! 😉

cd C:\<THE PATH WHERE YOU EXTRACTED THE WAFER EXTENSION TO>

conda activate flask

set FLASK_ENV=development

python json_io.py
Now you should be all set! So please open up the Tableau Workbook within the 7Zip file and repeat what you can find within the demo video section.



Troubleshooting
Troubleshooting
Open up the "json_io.py" within a text editor and adjust the rows underneath "#####DB info" so that they do exactly match with your database setup.

If you run into issues please try to change the locale settings of the laptop you're running the Tableau Workbook on to English (United States)
Make sure port 5000

is free

Check the logs within the Anaconda console
Debug the Tableau Extension similar to how I demonstrated it within this video:


With these steps in mind, please ask questions within the commenting area underneath if you're having other issues in getting the Extension up and running
Teilen